West Africa Football Federations Union Women's Tournament Schedule
Six Nations

of the Union of

West African

Football

Federations

(

UFOA

) will meet

in Abidjan from

27 September to 7

October 2012,

as part of

the first edition of

the

tournament

"

Cup

B

UFOA

des Dames"

reserved for

national

senior women's teams

.





Here is the schedule

for the competition.







Preliminaries




1-

Côte d'Ivoire vs

Liberia,

Thursday, September 27, 2012

at 15:30

Robert

Champroux

stage

(

Group A

)




2-

Senegal

vs Benin,

Friday, September 28, 2012

at 15:30

Robert

Champroux

stage

(Group B

)




3-

Mali vs

Ivory Coast,

Saturday, September 29, 2012

at 15:30

Robert

Champroux

stage

(

Group A

)




4-

Ghana vs

Senegal,

Sunday, September 30, 2012

at 15:30

Robert

Champroux

stage

(Group B

)




5-

Liberia vs

Mali

on Monday,

October 1st, 2012

at 15:30

Robert

Champroux

stage

(

Group A

)




6-

Benin vs

Ghana,

Tuesday, October 2, 2012

at 15:30

Robert

Champroux

stage

(Group B

)





Semifinals




7-

Pool B

1st

vs 2nd

Pool A

Thursday, October 4, 2012

at 14:00

Robert

Champroux

stage




8-

1st

Pool A vs

Pool B

2nd

,

Thursday, October 4, 2012

at 16:00

Robert

Champroux

stage





Match

for 3rd place




Loser

9-

7/

8

Loser

,

Saturday, October 6, 2012

at 16:00

Robert

Champroux

stage





Final




Winner

-

10

7/

8

Winner

,

Sunday, October 7, 2012

at 15:30

Robert

Champroux

stage
SOUTH AFRICA SASOL WOMEN'S LEAGUE
The Sasol League, the premier women's club football competition played in all nine provinces in SA, will kick-off in February 2013 running through to November of next year.

The South African Football Association (Safa) have made the change from the August kick-off to April finish, in order to accommodate the needs of the schools and tertiary institutions, who contribute many players to the Sasol League clubs.

"The schools and tertiary institutions run their leagues and competitions according to a normal calendar year," said Safa CEO Dr Robin Petersen.

"The shift will benefit the students, rather than the old system which saw scholars and tertiary institution members moving to other areas of the country for career or other opportunities at the end of December. This weakened several clubs playing in the Sasol League and after pondering all the angles, it has been decided to move back to the more conventional calendar approach."

It is envisaged that the men's competitions run under the auspices of Safa, will follow suit in due course.

"The Sasol League is the main source of talent supply to the Sasol-sponsored Banyana Banyana and other national age group women's football teams and we look forward to working in conjunction with Safa for the betterment of women's football, as we have been doing since the sponsorship started four years ago," said Sasol Sponsorship Specialist, Football, Dumisani Mbokane.

Shortly, the Safa Competitions Department, headed by the national football body's Director: Competitions, Balebetse Monnakgotla, will meet with the Sasol League clubs in the provinces in order to discuss ways and means to make the 2013 football season into an even smoother-run affair for all involved.
CAMEROON WOMEN'S FOOTBALL LEAGUE
First Division Women's Football will be held according to the program below and will be directed by officials designated below:

Sunday, September 23, 2012

ZONE 1

ANNEX 1 YAOUNDE STADIUM
EMERGENCE OF GIRLS FC vs FC 2000X YAOUNDE Mimboman YAOUNDE
A: Nafissatou Yaouba
A1: PAULINE Mokam
A2: NGO noug AGNES
4th: NGO BIEM MARIE JOSEE
General Coordinator: JOSEPH MBIDA MBIDA
Commissioner: Kalkaba SOUADATOU

ZONE 3

MUNICIPAL TIKO STADIUM
QUEEN VICTORIA OF BLADE VS CAIMAN GIRLS FC DOUALA
A: JEANNE EKOUMOU
A1: ATEZAMBONG
A2: HENRIETTE MEFFO
4th: ESSONO EBELA
General Coordinator: EDIE JAMES
Commissioner: INACK WELCOMES

MUNICIPAL MBOUDA STADIUM
MBACHONGWA OF LADIES FC FC OF CHERUB VS BAMENDA BANDJOUN
A: ZOA THERESE Nteme
A1: DADA MARIE
A2: WINNIE KOUNDAGBE
4th: BIYELE MVOGO
General Coordinator: JEAN KEMETIO DUCLAIR
Commissioner: BOUBA CALIXTE

Wednesday, September 26, 2012

REUNIFICATION DOUALA STADIUM
QUEEN VICTORIA FC VS CHERUBIN BANDJOUN
A: THERESE SYLVIE ABOU'OU
A1: PATRICIA HOUNGOURAMAN
A2: EYIMBI NGABA
4th: NGO LOULOUGA HANA
General Coordinator: EBOBISSE
Commissioner: UFEI Nseke ANOMA

MUNICIPAL Bafang STADIUM
CAIMAN GIRLS FC DOUALA VS MBACHONGWA OF LADIES FC BAMENDA
A: NEGUEL DAMGOUA
A1: MBAKOP FONGANG
A2: MAWOUE JOSIANE
4th: MAKUETE NICAISE
General Coordinator: EMMANUEL WOMETCHEU DJOMKAM
Commissioner: Ngale JEAMEA

Saturday, September 29, 2012

REUNIFICATION DOUALA STADIUM
QUEEN VICTORIA VS MBACHONGWA LADIES OF FC BAMENDA
A: BIEM NGO MARIE JOSEE
A1: PAULINE Mokam
A2: ATEAMBONG
4th: HENRIETTE MEFFO
General Coordinator: EBOBISSE
Commissioner: Manguele T.P

ANNEX 1 YAOUNDE STADIUM
CAIMAN GIRLS CHERUB VS DOUALA FC BANDJOUN
A: ESSONO EBELA
A1: LUM Ndeh ROCHELLE
A2: NGO noug AGNES
4th: EYIMBI NGABA
General Coordinator: JOSEPH MBIDA MBIDA
Commissioner: JEAN Embolo
Ghana Puts In Request To FIFA For Player Replacement
The Ghana Football Association has put in a request to FIFA to replace the injured Amina Fuseini from the Black Maidens squad for the upcoming U-17 Women's World Cup.

Fuseini suffered an injury in training and has been ruled out of the World Cup in Azerbaijan which kicks off on Saturday. She has since returned home.

However, the GFA is awaiting response from tournament organisers, FIFA, to have Berlinda Anane take the place of the injured player.

The Black Maidens, making their third straight appearance at the U-17 World Cup, open their campaign against Germany on Sunday in Group D.

Mas-Ud Didi Dramani's side will also face Uruguay and China PR in the group.
ghanafa.com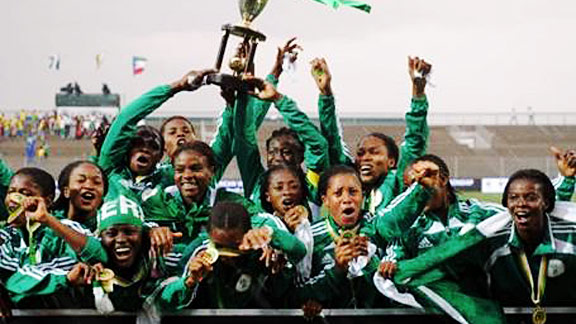 NIGERIA SUPER FALCONS RETURN TO CAMP
The Super Falcons returned to camp in preparation for the 2012 African Women's Championship (AWC) scheduled to hold in Equatorial Guinea from 22nd of next month.
Twenty-three out of the 27 players invited by Head Coach, Kadiri Ikhana, were in camp on the first day of the new season last Sunday.
Ikhana informed the players in camp that full training would this morning, with the tournament just five weeks away.
"We did not get as much time as we would have liked so we have to start our programmes immediately.
"The tournament is just five weeks away so we have a short time to train and choose the best players to represent the country in Equatorial Guinea," observed the gaffer.
Nine players from the Falconets that finished fourth at the just concluded FIFA Under-20 Women's World Cup in Japan are amongst the 27 players listed for the camp.
"The Falconets did the country proud at the Under-20 World Cup and I would like to congratulate them.
"I watched the team and I was impressed by some of the players I saw, which is why I have invited nine of them to join us," said Ikhana.
He insisted that the players invited have already proved their worth at the Under-20 level and only hopes they can measure up to the standards of the senior national team.
Ikhana went on to add that he expects 100 per cent commitment from the players during the training camp.
"We want to retain the AWC title so nothing short of 100 per cent commitment is needed
"I hope the players will make it difficult for me to choose my final team for the tournament."
He also stated that he was on the look out for players who show "commitment, discipline, skill and the ability to play according to instructions."
Players in camp include Falconets Josephine Chukwunonye, Ngozi Okobi, Cecilia Nku, Ugo Njoku, Asisat Oshoala, Esther Sunday, and Gloria Ofoegbu.
Also in camp are defenders Eberechi Maraihe, Gladys Akpa, Evelyn Nwabuoku, Ngozi Ebere, Ulomma Jerome and Joy Jegede.
Others include Chiudo Ehiudo, Stella Mbachu, Onyinyechi Ohadugha, Glory Iroka, Shola Oyewusi, Tshola Tawa, Tochukwu Oluehi, Ifeoma Emenike, Sharifat Saheed and Precious Dede.
Ugochi Oparanozie, Francisca Ordega and Osinachi Ohale are all expected to arrive the Serob Legacy Hotel today.
The African Women's Championship is scheduled to take place in Equatorial Guinea between October 28 and November 11.