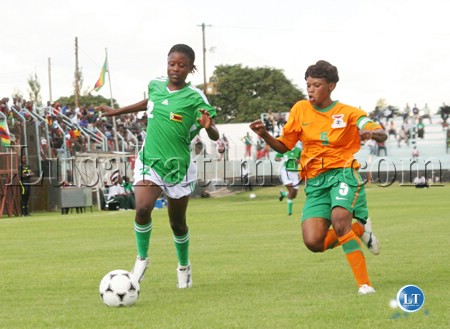 Rudo Neshamba on the ball (photo-Lusaka Times)
One player making the headlines in Zimbabwe is Rudo Neshamba. Rudo Neshamba powered her country to the All Africa Games when she scored the winning goal during the qualifiers. Ellina Mhlanga recently had a chat with Rudo Neshamba as follows:
Ellina Mhlanga : Congratulations for helping your team qualify for the All Africa Games.I know many will love to know who Rudo Neshamba is.Tell us a bit about yourself.
Rudo Neshamba:
Thanks. We qualified through a team effort. Well,I am the fourth child in a family of five girls and i was born on February 10 1992. I am 19 years old,I play as a striker and i was promoted recently fron the nationa U-20's.I started playing soccer when I was 10-years-old while I was still doing my Primary education at Mgoqo School in Bulawayo in 2002. I joined Inline club in 2004 and I am still attached to the club up to now. I played for my school at secondary level but I concentrated more on the club.
EM: I am told your family played a vital role in your success, as they have always been there to support you how true is that ?
RN:Yes that is absolutely true.My sister used to play soccer for New Orleans club then she went to Norway in 2002 that's when I begun to take soccer seriously.My sister is my inspiration.My family has always been very supportive. I haven't faced any challenge except at national level when I am playing.But I just pray to God for guidance and protection. And just train and focus on the game.
EM: It took you four years to break into the senior team. Tell us a little bit about your experiences so far.
RN:Well,I joined the national team in 2008 and it has been a great experience playing with well known players like Nomsa Moyo.My best achievement so far as a football player was scoring the two goals for the senior national team.It was the greatest thing ever for me.I am so proud of myself and happy. The last two games against Angola are the memorable games in my career so far. In the first leg in Angola I scored the goal and that was my first in the senior national team and I felt so great. I also scored in the return leg and the qualification for the All-Africa Games was good considering that we last played at the Games in 2003.
I think we are going to bring positive results from Maputo come September.
EM: How do you manage to remain composed when you play ?
RN: Composure is always important when you are playing. Just being composed and playing to my best has helped me a lot when I am in the field of play.I don't take anything outside the filed of play into a game.I play with a clear mind.
EM: A lot of negative things are said about female players.What do you make of that ?
RN:Although there is a negative perception associated with women in sport, this has not deterred me from fulfiling my dreams.People talk but we do not mind them because we know what we want to achieve in life. I want to continue playing football to the highest level possible.
EM: It might seem too soon to be asking this question but I'll still ask you this. Where do you see yourself in the future after you are done as a player ?
RN: I will like to take up coaching for sure.I want to become a national team coach in the future.
EM: Who is your favorite player and which club are you a fan of ?
RN: 100% Manchester United but i like Lionel Messi.
EM: What would you like to tell the young girls who look up to you ?
RN: For those who also want to play they should keep on training and be willing to learn.Stay true to yourself.The sky is the limit.