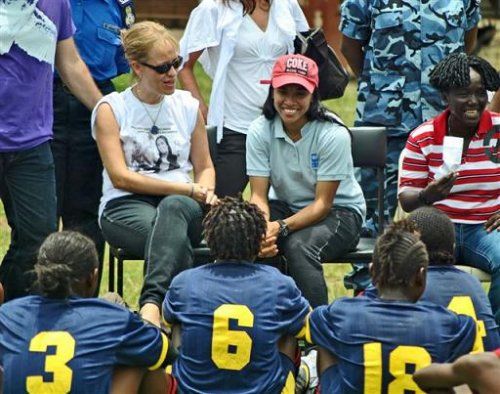 UNDP Goodwill Ambassador, Marta Vieira Da Silva, five-time FIFA world female player of the year, ended a two-day visit to Sierra Leone Sunday to promote women's empowerment with the message "When women succeed, we all win."
During her visit, Marta met with University students, civil society groups and young female footballers and students. She also met with women's groups, advocating for a 30 percent quota for women in all decision making bodies saying "When I see the will and commitment of these women I am definitely convinced that women's empowerment is essential for peace and development."
Hon. Bernadette Lahai, a female Member of Parliament in Sierra Leone, said there are only 13 percent women in parliament. "However, this must change," she said. "But in order to achieve our aim of a minimum 30 percent representation of women in all decision making bodies at local and national level, we will need the support of all women across the country and from all walks of life."
UNDP is supporting the advocacy agenda led by Sierra Leonean women for a law to be passed in parliament to ensure a 30 percent quota for women before the 2012 elections.
Marta also visited the Careers Advisory and Placement Service Centre at Fourah Bay College, a UNDP project within the University of Sierra Leone aimed at supporting young people in the university find jobs and gain requisite experiences. She met with a mixed group of male and female students, telling them her story of how she overcame a difficult childhood to become the best female football player in the world. She told the young students "I am here to tell you my story, but also to learn about your story ... through my story I want to tell you nothing is impossible."
In a reception hosted in honour of Sierra Leonean women in football, Marta met past and current stars including members of the Sierra Leone Female committee led by Ms Isha Johanssen and Ms Nicky Spencer-Coker. She also met Anna Williams, the current national female football team head coach and past vice captain Fonnie Conteh. .../
Musu Pele Bangura, former captain for ten years, presented a Sierra Leone national team jersey to Marta. Marta said "I have met outstanding current and past players like Musu Pele, Fonnie Conteh, Martha and many others.
They are not only great players, they are role models for all women in the country."
UNDP Sierra Leone Country Director, Ms Mia Seppo, said the UNDP Access to Justice project is supporting access to justice and security for security of women and girls particularly for survivors of sexual and gender based violence through the provision of victims support to meet the cost of prosecution and legal aid services at community level. "We should keep in mind however that this visit is about youth, women and football," she said. "It is our hope that Marta's presence will inspire young women who are facing challenges and discrimination."
Speaking to a group of young women gathered to see Marta, Seppo told them: "Young people need role models not critics. In Marta you have a role model. I hope your trust and hope for the future will be strengthened when you see that it is possible, through hard work and determination, to overcome obstacles and reach ones dreams."
At the end of her visit on Saturday, Marta watched the male national team, the Leone Stars, defeat Egypt 2-1 in the Africa Nations Cup qualifier in Freetown. She then organized a female match, between Diamond Queens, which she coached, and the Sierra Queens, led by Musu Pele Bangura., which ended in a tie.
credits-Reuters
photo-Futbolita