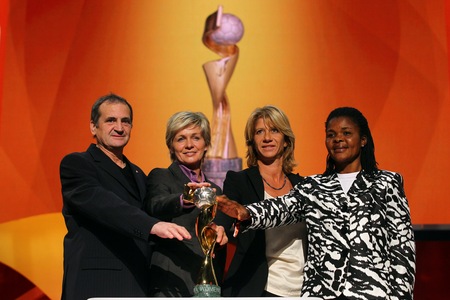 Eucharia Uche at the FIFA 2011 women's world cup draw (photo by Lars/Baron/ Bongarts/Getty Images)
Nigeria's national women's soccer team, The Super Falcons made history when they were crowned African champions with a female coach in charge. Many saw it as a sign for better things to come for women's soccer, for after all, a woman can manage her own affairs. Through out the 2011 world cup qualifiers down to the African Women's Championship,a woman had been at the helm of affairs.It is no secret that,Eucharia Uche worked under very difficult conditions. One account has it that, for two years as the head coach of the Nigerian women's national team, Eucharia Uche did not receive a single pay check for her services, yet, she was able to guide the team through winning the African Women's championship and qualifying for the world cup.
Since her appointment by the NFF board under the leadership of Sani Lulu Abdulahi, Eucharia Uche has not fallen short when it mattered most.How can a woman be dealt this hard a blow when she should feel comfortable and wanted whiles working in a domain for women ? What more should a woman do to be recognized and appreciated ? Isn't women's soccer a woman's game and if men should be involved of which women have no qualms about, shouldn't a woman with the very same qualifications of a man be given the same respect accorded a man ?
Eucharia Uche was once an international player. She donned the green and white of the Nigerian National Soccer Team,she worked hard to get to where she is today through sweat and tears,she beat the odds to become a winning coach, a history maker and the pride of a continent's women soccer players and coaches alike. Having served as an assistant coach from 2002-2008 and as an understudy for various coaches of the national female youth teams up to the senior level,Eucharia Uche has always worked with distinction and her results speak for itself.
For the Nigerian Football Federation to demote her upon the appointment of a German coach is just absurd especially taking into consideration the rationale behind such a measure, with the world cup just around the corner. Call it what you may,Eucharia Uche has not been treated fairly and if this kind of treatment is what the technical directorate of the NFF calls progress,then God help us all. Women's soccer has come of age and it's time for women with the capability and qualification for managing the affairs of the sport to be given the chance to show their worth. It is a woman's game after all.