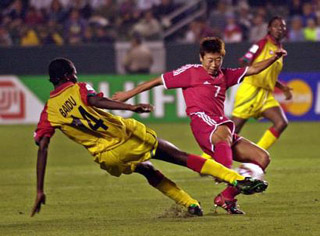 It's amazing how women's soccer has evolved.I will dwell on Ghana this time. I remember when I started playing soccer, back then we played with boys in the streets, we were called names; some too crude to mention. Thanks to the annual end of year soccer fiesta in the early '90s which brought women's soccer to the forefront in Ghana. The few of us who were actually gifted players had the opportunity of playing in the so called exhibition match, with other women who could not kick a soccer ball even if their lives depended on it.
It was all for fun, watch women play a man's game, laugh when they fall, crack a joke here and there, nothing fancy. Little they they know women's soccer will enjoy world wide success let alone a FIFA Women's Soccer world cup. It's unfortunate Ghana hasn't improved in leaps and bounds, infact, Ghana has gifted soccer players men and women alike. Most pick up the game as soon as they could walk, we never attend soccer camps,neither are we given any pointers in how to play the beautiful game. How blessed we are !
I begin to wonder why Africa is not as domininant as her European and American counterparts in the world of women's soccer, there is so much talent on the continent yet African women's soccer players are not acknowledged amongst the best in the world. Could it be that, the women's soccer is being negledted ?
Nigeria and Ghana are the flag bearers of the sport on the continent, countless stars have emerged from these countries the likes of Mercy Akide, Florence Omagbemi,Elizabeth Baidoo,Patience Sackey, Alberta Sackey, and Vivian Mensah to name a few and many more are blazing thier trail yet Africa is yet to make a dent on the world scene.
In some colleges in the USA and in some leagues in Europe, African women's soccer players have made the headlines by showcasing their skills much to the admiration of all who love women's soccer.
Take for instance, Gifty Appiah, a player who won virtually all there is to be won at the collegiate level or Pepertua Nkwocha or up and coming star Florence Dadson, a player endowed with so much talent ; why are their countries still far behind on the echellons of world soccer ?
Many capable minds have watched from afar as Ghana's women's soccer slowly bleeds to death.
The reason they stand aloof is this, corruption and the lack of direction and the outright disregard for anything women's soccer yes, i said disregard for women's soccer is stifling the growth of the sport. The men are given all the attention where as the women are left to fend for themselves. Technically, women's soccer is regarded as a recreational venture if not why are they neglected whiles all the men on the other end get the best support there is logistically,financially,technically ?
It's time for Ghana's FA to wake up, harness the talents, home and abroad,lay down working structures to enable to sport grow.The lackadaisical attitude towards women's soccer should change. Women have a lot to offer in regards to women's soccer, Ghana can not afford to lag behind whiles others are striving forward.
The days of male chauvinists are over,women have come a long way and they need the support and encouragement in order to see women's soccer flourish. There is much time to make it right, there is much time to put Africa's women soccer on the world map. It behoves all ensundry to put our best foot forward, let's all get on board !